Happy Holidays from
the Kearney Chamber of Commerce!
Welcome to the 4th Annual Holiday Giveaway - a community wide effort to encourage local shopping for the holidays and to educate customers outside of Kearney on all the great shops, restaurants, and services Kearney has to offer.
The 2022 campaign will give away a total of $3,500 — split into 3 cash prizes of $2,000, $1,000 & $500. The grand prize drawing will be held Thursday, December 15, 2022 at Bea's Flowers & Gifts.
Watch for this yard sign at participating businesses!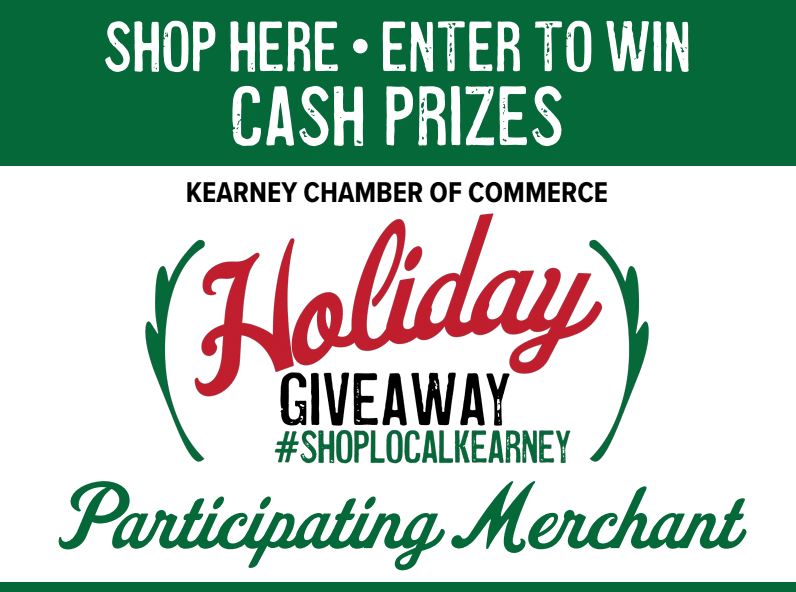 2022 HOLIDAY GIVEAWAY WINNING NUMBERS:
On behalf of the Chamber and @BeasFlowersKearney…that's a wrap for the 2022 #ShopLocalKearney Holiday Giveaway. 
Thank you to all of our ticket holders for supporting our local businesses this holiday season and all year through. 
Thank you to all of our sponsors and participating merchants for passing out over $25,000 tickets; and for all you do to support and provide for our community.
Ticket holders will have 24 hours to claim their prize after the numbers have been announced. 
For example, for numbers drawn on December 15th, ticket holders will have until Thursday, December 16th at 3pm to claim their prize.
Prizes must be redeemed in person at the Kearney Chamber of Commerce Office (455 Sam Barr Drive, Suite 103). Call 816.628.4229.
If the ticket numbers are not claimed, additional numbers will be announced at 3pm every day until December 23.
HERE'S WHAT YOU NEED TO KNOW:
The winning ticket holder will have one (1) business day to claim the money, in person, at Bea's Flowers & Gifts. If not claimed, the second number will be drawn on December 16th at 3:00pm. The drawing dates will continue one per business day at 3:00pm until a winner comes forward through December 23rd at 3:00pm.
Once the winning ticket numbers are announced, they will be posted:
Watch for Yard Signs in These Places!
Collect Tickets from These Participating Merchants