Happy Holidays from
the Kearney Chamber of Commerce!
Welcome to the 4th Annual Holiday Giveaway - a community wide effort to encourage local shopping for the holidays and to educate customers outside of Kearney on all the great shops, restaurants, and services Kearney has to offer.
The 2022 campaign will give away a total of $3,500 — split into 3 cash prizes of $2,000, $1,000 & $500. The grand prize drawing will be held Thursday, December 15, 2022 at Bea's Flowers & Gifts.
During the campaign this year, shoppers are encouraged to tag participating merchants' social media pages and use the hashtag #ShopLocalKearney in their post. A ticket handed out from the Participating Merchant with the most Facebook tags as of the drawing date will be randomly selected to win $100 in Chamber Cash.
Watch for this yard sign at participating businesses!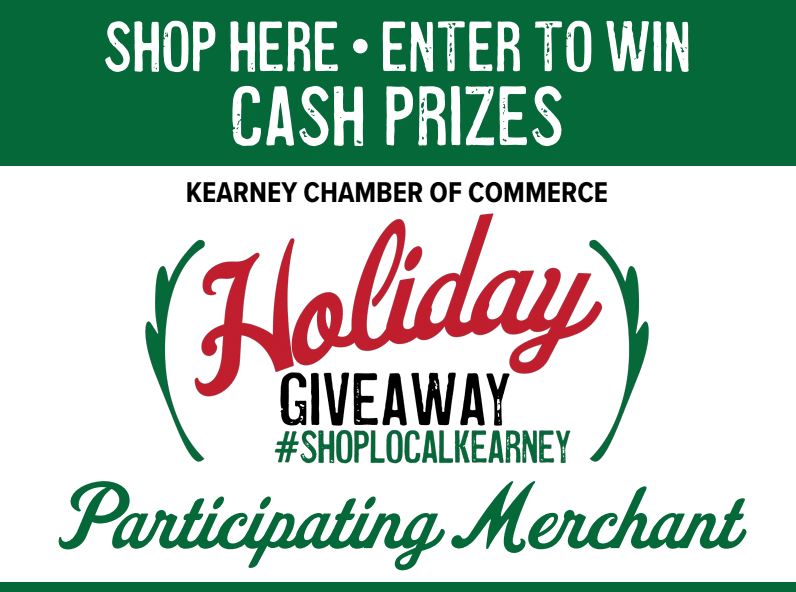 2022 HOLIDAY GIVEAWAY WINNING NUMBERS:
WINNING TICKETS WILL BE DRAWN ON THURSDAY, DECEMBER 15, 2022, AT 3:00PM AT BEA'S FLOWERS & GIFTS.
HERE'S WHAT YOU NEED TO KNOW:
The winning ticket holder will have one (1) business day to claim the money, in person, at Bea's Flowers & Gifts. If not claimed, the second number will be drawn on December 16th at 3:00pm. The drawing dates will continue one per business day at 3:00pm until a winner comes forward through December 23rd at 3:00pm.
Once the winning ticket numbers are announced, they will be posted:
Watch for Yard Signs in These Places!
Collect Tickets from These Participating Merchants